Podcast: Play in new window | Download (Duration: 50:49 — 58.2MB)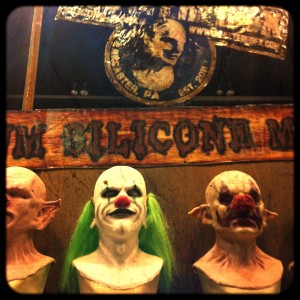 In this episode of HaunTopic Radio we stuff in more Halloween & Haunted House goodness from the 2013 Transworld Halloween & Attractions Show in St.Louis, Mo. We interview some Home Haunters, Prop Makers, Mask Designers, and a couple of Haunt Podcast Stars. Check out the names and active links below which takes you directly to their websites!
"Whether you are opening a haunted attraction for the first time, or are a seasoned veteran, the Transworld Halloween and Attractions show is a must see event. This is the only trade show that features vendors, from across the nation and overseas, that cover every aspect of our business, from ticketing to makeup and sound FX to giant animatronics. If you are a pro haunter, or want to become one, you cannot afford to miss this event."

-Randy Bates, owner The Bates Motel haunt.
In this episode you can also find out more about our next online seminar with Allen Hopps from Stiltbeast Studios who will be teaching Scare Acting 101 in an hour and a half webinar on Managing, Training, and Keeping Your Actors Motivated. You can sign up for this online seminar here:
REGISTER FOR THE SCARE ACTING 101 WEBINAR WITH ALLEN HOPPS
The winner of our May giveaway (a HAuNTcon T-Shirt) is:
Yvette Langille

We talk to these folks on this episode:
Flatline Radio: Halloween/Haunted Attraction Radio Show-Tristen Pierce
House of Boo: Haunt Props & Costumes- Jake Farmer