Podcast: Play in new window | Download (Duration: 38:10 — 52.4MB)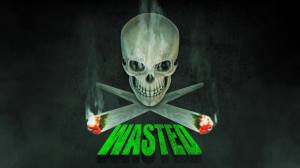 In this episode of HaunTopic Radio, we discuss the making of 'Wasted' with Steve Kasan, actor and producer, and the journey the crew has been on as they try to make this TV Show a reality.
Ideas to concept. Acting while working a day job. Film competitions. Producing on a budget. Marketing a Zombie comedy to the masses. And how to survive it all!
Steve also gives you some tips on How To Produce Your Own Horror Movie, His Favorite Zombie Movies, & How To Mix Horror with Comedy.
The world is a big waste according to four friends who spend most of their time discussing zombies while getting drunk and high. When the dead actually do rise they must use their limited knowledge and skills to survive.

Wasted breaks the rules of prime-time comedy with edgy multicultural characters and situations that poke fun at race, religion, taboo topics, and the zombie genre itself. This show will present how they deal with the world before and during the zombie outbreak, often resorting to the past in order to face the future. ~Comedy Coup

Wasted placed in the TOP 55 in the Canadian Comedy Coup competition for the CBC (a television network in Canada). But the team isn't going to stop there. They are still moving forward and gaining traction along the way. And you can help!
If you enjoy Zombies, horror comedies, or just want to support them in their path of survival….Click on these links below to help them out by spreading the word to your friends.
Haunt Topic Links:
Follow 'Wasted' on Twitter
More Videos & Media about 'Wasted'
The more we support independent film makers and special effects artists, the more awareness we bring to the Horror industry. Which is like a cousin to the Haunt Industry.
Watch the video below and check out their media outlets and support their rise to the top by sharing. One contest may be over…but let's see if we can make it happen anyway!
"It's like Pineapple Express meets The Walking Dead!"-Steve Kasan