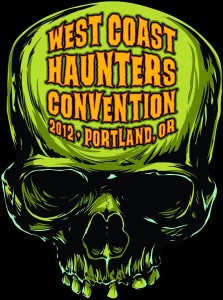 In Episode 13 of HaunTopic Radio, we mind travel to the West Coast and share a few moments with Ed Roberts; the man behind The West Coast Haunter's Convention. It will be held in Portland, OR on June 1-3, 2012 at the Doubletree Hotel. This convention is open to all Halloween fans, Home Haunters, Haunt Owners, Vendors, Artists, and everyone else who loves the Dark & Scary. And it only costs $40 for the whole weekend.
We're talking Haunt Tours, Make & Takes, Pretty Hearses to look at, Haunters like You to talk to, Over 40 Classes, Tradeshows, a Costume Ball, and many other possibilities. Ed is also helping The Oregon School for the Def by using money earned from the Convention to support to those who need it most. Watch the video below: The Extreme Makeover comes to help out the school & their Haunt.
All of this….all on the West Coast…and for charity?
Oh yeah…he is offering all Home Haunters a FREE TABLE at the convention. 
Podcast: Play in new window | Download (Duration: 31:17 — 35.8MB)
More Information About The West Coast Haunter's Convention:
Listen to Episode 11 to Enter The Contest for the month of May. Click Here.