Winchester Mystery House Announces 'Fright Nights'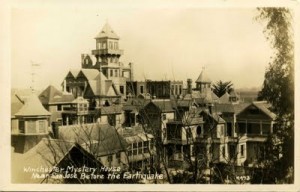 The Winchester Mystery House is a California State Historical Landmark (#868) and was designed and built by Winchester rifle heiress, Sarah Winchester. The attraction is one of the top tourist attractions in the world and has recently been honored with the following accolades: World's Most Haunted Places #2 Travel Channel; The Scariest Locations In America #3 HauntWorld Magazine; and 10 Great Places To Get Spooked #5 USA Today
Photos Of The Winchester Mystery House
IMMEDIATE RELEASE: Winchester Mystery House announces all new 'Fright Nights'
STEP IN TO AN ALL-NEW HORRIFYING, MULTI-SENSORY AND INTERACTIVE REAL-LIFE EXHIBIT RIVALING ANY HOLLYWOOD STUDIO
Winchester Mystery House in San Jose,CA; the world-famous mysterious, rambling and reportedly haunted home of Sarah Winchester, will present "Fright Nights," a special event with all-new thrilling attractions beginning September 30, 2011.
On select nights in September and October, the grounds of the Winchester Estate will be transformed into the world's most terrifying Halloween experience. Filled with haunted walk-through attractions, roaming scare performers, and nightmare inducing tales, "Fright Nights" will be an open house visitors won't want to miss!
"'We are so excited for our first-ever 'Fright Nights' at Winchester Mystery House featuring a heart-pounding new maze and spine-chilling characters to go along with it," said Brett Tomberlin, President, Imagination Design Works. "This will be an unrivaled event in a setting that was named one of the scariest places in America."
CURSE OF SARAH WINCHESTER MAZE
Maze Length: 15 Minutes
For the first time, guests at "Fright Nights" will have the exclusive opportunity to experience the all new "Curse of Sarah Winchester Maze" – an interactive, multi-sensory gateway between Heaven and Hell which will be opened exclusively for visitors of "Fright Nights." For a lifetime, Sarah Winchester built, built, and rebuilt her house to avoid a treacherous curse and escape her husband's legacy of damnation. Those who perished by the Winchester rifle are seeking revenge, and are now ready to sacrifice souls before midnight strikes. Visitors experience bone-chilling creatures and blood-curdling moments as they find themselves trapped inside the mansion empowered by the undead.
FLASHLIGHT TOUR
Tour Length: 65 Minutes
The "Halloween Flashlight Tour" – a fan-favorite is coming back in full force to "Fright Nights" and can only be experienced this time of year. Since her death, millions of people have visited Sarah's home and many have reported sighting ghosts. Do the phantoms she communed with in life, or perhaps Sarah herself, still lurk nightly in the maze-like corridors of the Winchester Mystery House? You'll tour the rambling, mysterious mansion with only the moonlight, a souvenir flashlight, and your imagination to provide illumination through the bewildering labyrinth of rooms and stairways.
SCHEDULE: "Fright Nights" take place on consecutive weekends and selected weekday nights beginning Friday, September 30 through Halloween, Monday, October 31, 2011.
Additional event dates are: September 30; October 1, 7, 8, 9, 14, 15, 16, 21, 22, 23, 27, 28, 29, 30, 31.
"Fright Nights" begin at 6:30p.m.; closing hours vary throughout the event.
Ticket sales began June 1, 2011 at WinchesterMysteryHouse.com/tickets with a new "Slasher Savings" option providing discounts of up to $20 for selected dates.
Updates on "Fright Nights" will be available at WinchesterMysteryHouse.com and also on Twitter and Facebook, as Creative Director Brett Tomberlin reveals a running chronicle of exclusive information.
Fans are also invited to follow the Winchester Mystery House and Brett Tomberlin on Twitter at: twitter.com/WinchesterHouse or via Facebook at: facebook.com/winchestermysteryhouse (Official).
About Imagination Design Works (IDW):
IDW Productions is an independent entertainment Production Company formed for the purpose of creating feature length motion pictures, television programming and live entertainment productions. The company is owned and run by Brett Tomberlin and is the creative entity behind this year's Fright Nights.
Thank you,
Lindsey Huffman
Marketing Coordinator
WMH
Share and Enjoy